SCI announces new exhibit... and it's not a temporary one
Brick by Brick to open as permanent exhibit on September 3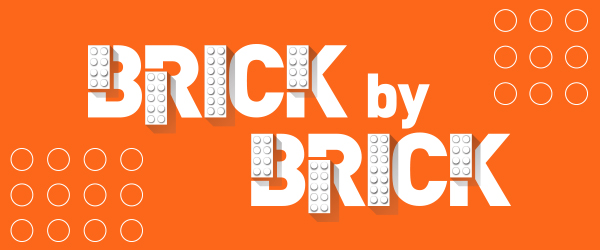 DES MOINES, IA: This September, the Science Center of Iowa (SCI) will open a new exhibit that will become a permanent feature of the SCI visitor experience.
"It's a shift in our exhibit strategy," said Curt Simmons, SCI president and CEO. "We're making an investment in the experience that our visitors can expect on a daily basis. It's a chance to engage our community around the topics of engineering and architecture – but equally importantly, around the concepts of creativity and innovation."
The exhibit is called "Brick by Brick," and it will open on Labor Day (September 3) in conjunction with SCI's 5th annual Des Moines Mini Maker Faire.
"Brick by Brick" pairs giant LEGO®-built structures with hands-on building challenges to reinforce key principles of engineering, construction and architecture and encourage creativity.
The spectacular LEGO-built structures include engineering marvels like a 60-foot Golden Gate Bridge, St. Louis Gateway Arch, Hoover Dam, Roman Colosseum and more", constructed by LEGO Certified Professional Adam Reed Tucker.
Exhibit stations and building challenges will allow participants to:
Build and test structures to withstand earthquakes and heavy winds.
Explore unconventional LEGO building techniques to solve design challenges.
Walk on a sturdy I-beam to feel its strength.
Use simple machines and engineering to lift their friends - or themselves!
Visitors will learn how architects and engineers push the limits of design, materials and location to make the seemingly impossible, possible; witness how form follows function; and learn how building beautifully uplifts us all.
More than an exhibit
In addition to the exhibit itself, SCI will develop programming to engage audiences in principles of engineering, architecture, design and creativity.
"With the newly adopted Next Generation Science Standards, the State of Iowa has elevated the focus of engineering principles to be embedded into science curriculum," said Renee Shull-Harmon, SCI's vice president of science learning. "With this change, educators are looking for resources to assist and complement classroom curriculum."
SCI staff will look to update and expand current programming related to these topics in order to provide robust experiences for schools onsite through school visits and offsite through its statewide educational outreach program.
There also will be opportunities to engage the public in multigenerational experiences and support emotional connections that aid in learning.
"LEGO is a universal part of childhood for so many of us," said Dan Raedeker, SCI's vice president of community engagement. "With this exhibit, we will be able to create experiences that gets people of all ages excited about discovering – or re-discovering – their inner builder."
"Brick by Brick" will open on Labor Day (September 3) during SCI's 5th annual Des Moines Mini Maker Faire. It will be included with general admission ($12 for adults; $8 for seniors 65+ and children 2-12). SCI also will shift its maintenance and cleaning week, which is normally the week following Labor Day, and will be closed August 27-31 as it prepares for the exhibit opening.
Details can be found at www.sciowa.org/brickbybrick, and SCI will be sharing updates on its social media accounts, including Facebook, Twitter and Instagram.
About the Science Center of Iowa
The Science Center of Iowa engages and inspires Iowans along their journey of lifelong science learning. Centrally located in Downtown Des Moines, SCI features dynamic experience platforms, large format theaters and daily interactive science demonstrations. Through daily visitors, a statewide educational outreach program and the NAEYC-accredited SCI Preschool, the Science Center of Iowa serves more than 300,000 people annually.