Engage visitors with your time and talents as a volunteer at SCI!
Do you have a knack for knowledge? An appetite for adventure? A hand for helping? Whether you can donate a couple of hours or stick around for years, join SCI's volunteer team to help inspire a-ha! moments. Tell us your skills, interests and availability and we'll find ways for you to get involved.
Consider the possibilities:
Get your hands on science by presenting cart demonstrations and pocket science.
Pitch in during busy seasons to greet visitors and answer questions.
Be a resident expert and present at one of SCI's events or forums.
If you're handy, use your fix-it skills to keep exhibits fully functioning.
Volunteer Applications
Read below to learn about the three types of volunteer roles at SCI — Core Volunteers, Special Event Volunteers and Group Volunteers. Then submit an application using the respective buttons below!
Core VolunteerSpecial Event VolunteerGroup Volunteer
Please note: You must be at least 15 years of age to volunteer at SCI if unaccompanied by a parent/guardian.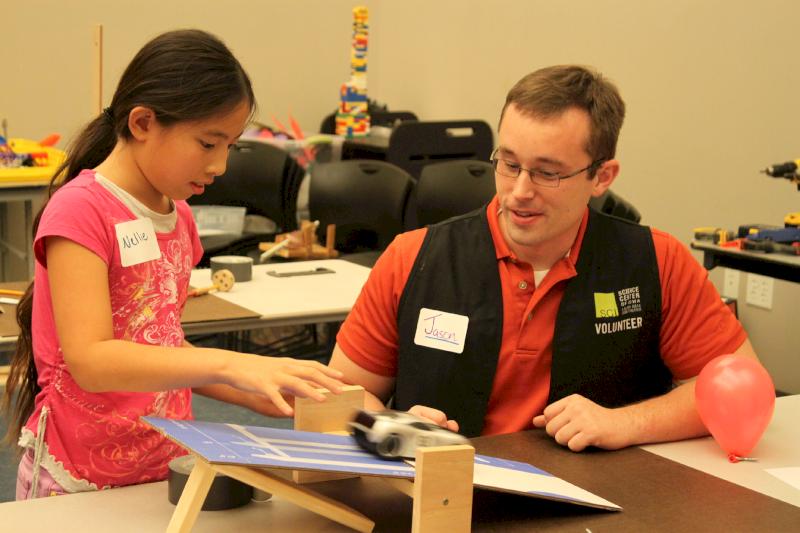 Core Volunteer
Core volunteers support SCI's daily operations by volunteering on a regular basis, whether it's once per week or once per month or with ongoing programs, like Mixology Night, $5 Family Night or Star Parties. Core volunteers participate in orientation and training in order to help fulfill our mission — to engage and inspire Iowans along their journey of lifelong science learning.
Discovery Assistant: Provide effective and positive customer service to SCI's participants as a general information source. You'll help us guide visitors to exhibits, answer questions about SCI's programs and ensure participant safety.
Outreach Assistant: Use your teaching skills, and hit the road with our Science @ Your Site Outreach team as it travels across Iowa! You'll help our programs staff provide engaging science demonstrations for students of all ages.
Exhibit Specialist: Monitor our traveling exhibits, and report issues to our Exhibits Department.
Guest Services Representative: Answer visitors' questions, and help check in SCI Members at the Box Office.
IMAX Usher: Welcome participants to the Blank IMAX Dome Theater, and answer any questions they have about the IMAX experience.
Lead Volunteer: Become a volunteer lead, and help train new volunteers.
Animal Specialist Assistant: Love all kinds of critters? Help our Animal Specialist care for reptiles, mice and other animals! You'll assist in keeping our animals' enclosures clean and help with weekly feedings.
Collectors' Corner Assistant: Help participants discover the natural world around them at our Collectors' Corner mini-exhibit! Classify objects found in nature, and encourage participants to ask questions and add to their collections.
ESL Teacher: The SCI Preschool needs an experienced ESL teacher to assist in classrooms for three hours once a week.
Physical Education/Nutrition Teacher: Are you a P.E. teacher with an interest in nutrition? Help us teach our SCI Preschool students how to lead healthy, active lives.
Art Teacher: Science and art unite in this hands-on volunteer role. Join our SCI Preschool students one hour a week for an interactive art class with a STEAM focus.
Special Event Volunteer
Special event volunteers participate on an event-by-event basis, including events like Spooky Science, FIRST LEGO League, Breakfast with Santa or the Des Moines Mini Maker Faire.
Group Volunteers
Do you represent a group/organization looking for opportunities to get involved in your community? Volunteer groups of 8 or more can work together on one large activity or assist with multiple projects at once. Complete an application, and we'll work together to find an opportunity that fits your group!
Already an SCI Volunteer?
Current volunteers can click the link below to log in and sign up for shifts.
Forgot your login information? Questions about volunteering?
Contact volunteer@sciowa.org.