SCI's Big Blast
Science Center of Iowa rebrands annual fundraiser in celebration of 20th year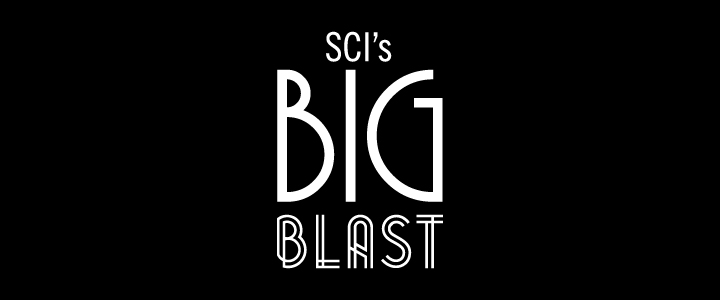 DES MOINES, IA: The Science Center of Iowa's annual fundraising event and auction, which raises more than $200,000 annually to support SCI's mission and operations, has a new name for its 20th year.
"We're calling it 'SCI's Big Blast' because it reflects our commitment to lifelong science learning, but also because it conveys the spirit of the event," said Dan Raedeker, SCI's vice president of community engagement. "We've heard over and over that our end-of-summer celebration is one people look forward to every year, so we decided to play that up."
The Science Center of Iowa's annual fundraising event began in 1998, when the center was located in Greenwood Park. The event continued after SCI moved its operations downtown in 2005 and has grown to feature a 200-plus package silent auction and a live auction that has included tickets to a live taping of Saturday Night Live, a John Deere riding lawn tractor and even an African safari. More than 400 people attend each year.
"This year's event will invite people to have a blast - both figuratively and scientifically," said Raedeker, of the event, which will take place on Friday, August 24, from 6:30-11:30 p.m.
Premier event caterers – Christiani's VIP Catering & Events, Great Caterers of Iowa and Hy-Vee on Euclid – will prepare cuisine featuring unique ingredients and techniques, while SCI's Food Chain Café will create signature cocktails that combine creativity and chemistry.
Live entertainment will be provided by Marc Bailey and DJ Cosmo, and SCI's exhibits will be open for after-hours exploration.
The event will continue to feature live and silent auctions, including items from local establishments, one-of-a-kind experiences and destination travel getaways.
Funds raised at the event support opportunities for more than 320,000 children, teens and adults to engage in science learning through interactive exhibits, live programming, IMAX films, special events, workshops and camps at SCI each year.
Tickets for "SCI's Big Blast" go on sale June 21. They are $125 per person; $225 for two. After August 1, ticket prices go up to $150 per person; $275 for two. Tickets can be purchased online at www.sciowa.org/bigblast or by calling 515-274-6868 ext. 223.
The event is supported by many local organizations and contributors. Elemental Sponsors: Kemin Industries, Nationwide. Presenting Sponsors: Corteva Agriscience, Eurofins Scientific, Inc., Hy-Vee, Inc., MidAmerican Energy. Supporting Sponsors: Kim and Jean Austen, Bankers Trust, Belin McCormick, P.C., Fred and Charlotte Hubbell Foundation, John Deere, Elizabeth Nelson, Neumann Brothers, Inc., West Bank. Sustaining Sponsors: Barb and Bill Keck, Casey's, Cheryl and Michael Giudicessi, Des Moines University, Elizabeth and Sheldon Ohringer, Farmers Mutual Hail Insurance Company of Iowa, Gislason & Hunter LLP, Holmes Murphy & Associates, Keaton and Scott Pulver, Keck Parking, Laura Higgins and David Walters, Mercedes-Benz of Des Moines, Meredith Corporation, Principal, Scheels.
More information about the event can be found online at www.sciowa.org/bigblast.
"It's going to be a blast."
About the Science Center of Iowa
The Science Center of Iowa engages and inspires Iowans along their journey of lifelong science learning. Centrally located in Downtown Des Moines, SCI features dynamic experience platforms, large format theaters and daily interactive science demonstrations. Through daily visitors, a statewide educational outreach program and the NAEYC-accredited SCI Preschool, the Science Center of Iowa serves more than 300,000 people annually.