STEM in DSM: Meet WHO meteorologist Amber Alexander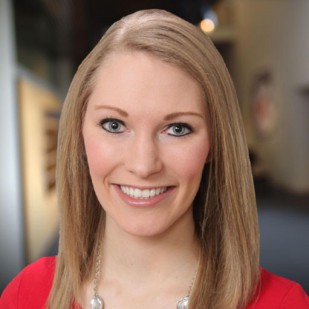 For WHO Channel 13 meteorologist Amber Alexander, watching storms on the front porch of her Council Bluffs home inspired a career complete with weekly trips to the Science Center of Iowa. We sat down with Amber to discuss her path to the green screen, her lifelong Husker fandom and how she hopes to encourage future meteorologists at SCI.
SCI: What inspired you to go into meteorology?
AA: I was 11 and in sixth grade, and we were studying the basics of weather. That caught my attention, and I thought it was so cool. We were watching the news at home that night after school, and the screen said, 'meteorologist,' and I thought, "Wow, that's really neat! That's what I want to do someday." I've stuck with it ever since. I grew up a huge Husker fan, so when I went to visit the University of Nebraska-Lincoln, I thought, "I can't compete with this."
SCI: What is something aspiring meteorologists might not expect from an academic perspective?
AA: I don't think they expect how tough the coursework is. You see meteorologists on TV every day and might not realize their whole background involves math and very tough science classes. It goes all the way through the whole calculus sequence, a statistics class, plus a differential equations class. I loved math growing up, so that wasn't a big deal for me.
SCI: What kind of professional experience did you gain before coming to WHO-HD?
AA: By my sophomore year of college, I was practicing to be a broadcast meteorologist the green screen. I had an internship with the state climatologist my sophomore year of college. I was 19 years old, and I had my own little office. I felt so cool. I was doing basic climate work and was tracking temperature trends throughout Nebraska.
SCI: Can you describe your experience delivering the weather at the Science Center of Iowa?
AA: The first day I worked at the Science Center of Iowa was actually Noon Year's Eve, and it was absolutely crazy, but fun. It's always fun to see kids come up and give me a hug. They're so sweet, and they love to learn about the weather.
SCI: How do you hope to inspire future meteorologists?
AA: One of the most rewarding parts of my job is teaching young kids, especially young girls, that they can do it if they stick with it. We all have times that we don't think we can get through it.You just have to stick through it and try your best, and you'll eventually get where you want to be.