The not-so-day-to-day life of a Yellowstone Park Ranger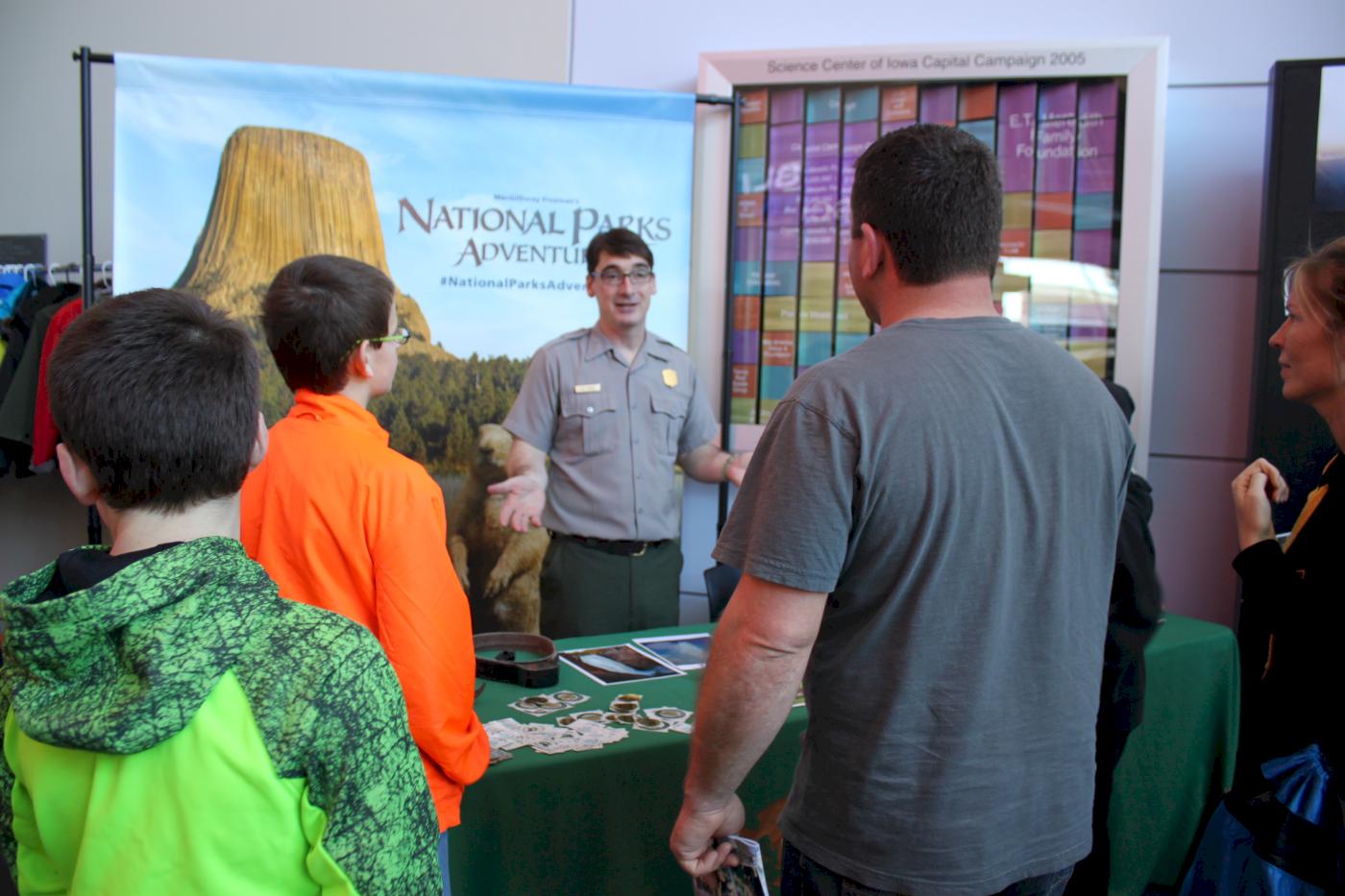 Park Ranger Mike Coonan's "office" is more than 20 million acres of glaciated valleys, pristine forests and, of course, the signature geysers at Yellowstone National Park. We sat down with Mike, a University of Northern Iowa alumnus, to discuss his path to the parks and the upcoming centennial of the National Park Service.
SCI: How long have you been a park ranger at Yellowstone National Park, and how did you land there?
MC: I've been working at Yellowstone National Park for seven years now. It's a second career for me. It takes a college degree. I'm a graduate of UNI. Go, Panthers! I had a friend who was a park ranger at Neal Smith National Wildlife Refuge here in Iowa, and she encouraged me to apply for a program called the Youth Conservation Corps, and I also applied for the Yellowstone program. I was offered both jobs, between working in the Upper Peninsula in Michigan or Yellowstone, and I chose Yellowstone. I haven't looked back.
SCI: Can you describe the day-to-day life of a park ranger?
MC: One of the things I love about my job as a park ranger in resource youth education programs is that there is no day to day. Today I'm working at SCI. Other days when I'm in the park, my favorite thing is leading school groups. We like to call Yellowstone the largest laboratory or the largest classroom, being over two million acres and being preserved as the first national park in 1871.
Of course, I study the geysers and hot springs that make Yellowstone so famous, but also the plants and animals and the landscape, where we can look down a river valley or a glaciated valley. To not see a building or a road or a fence or even a power line is amazing. We can really talk about the plants and animals and also the super-volcano, which is a source of energy in the geysers. We have Earth science, animal science, biology, as well as human history. My favorite thing is to walk and talk in the resource and be able to look at it, touch it, feel it, smell it. We usually don't allow visitors to taste it.
SCI: Is there a specific age group of students you like to work with?
MC: I love my team that I work with because we have different expertise. When it comes to the Pre-K through first grade, yeah, they scare me. I like working with grad students from the University of Texas in microbiology. Working with teens or preteens is my niche. I work with junior-high/high school, sometimes college. I also work with teachers, which is amazing. The diversity is incredible. When my office is outside, those are the good days.
SCI: What's the most rewarding part of your job?
MC: I always say Yellowstone does its job every day when we have kids, students and teachers in the natural resource. We can talk scats and tracks. When they discover that and call you over, it's their discovery.
How much they teach me is amazing. We'll talk about why we can't pick up the petrified wood or obsidian. You know, the natural resources. To quote a fourth grader, 'So someone else can discover it.' I stole that line from that student. I think it's spot-on. With over four million visitors in the park throughout the year, you can't take a rock. If everyone took a rock, that would be devastating. We're facing probably a busier year with the National Park Service turning 100. It's amazing to have a fourth grader make a discovery and say, 'Yeah, so the next person can find this arrowhead or piece of petrified wood or this teepee ring.' Same thing with scat. Hopefully no one is putting that in their pockets, but you never know.
SCI: Can you talk about the centennial of the National Park Service coming up this summer?
MC: It's great, and they'll be doing other free days on the centennial, which is in August. August 25, give or take a day. It's amazing that we're nationwide celebrating our national parks, including our urban parks and historic areas, as well as our iconic parks like Yellowstone. It's amazing.
SCI: How many national parks have you visited?
MC: I don't really keep track. Since I started working for the park service, I have explored more parks. I seem to enjoy them much more as a fellow park ranger than I ever did as a child.
I am not ashamed to say I got about seven Junior Ranger certifications last year. I am an official Junior Ranger at several different parks, not just my home park. That's one of the things I really enjoy about working with the teen program, the Youth Conservation Corps, which was my foot in the door. It's great to see how 15- to 18-year-olds get so excited about working with the Junior Ranger program. You can't help but have fun, but you learn more about your park and how you can connect.
There are incredible programs all over. The Arches in Utah. The National Mall in D.C., which is the Washington Monument. As well as the White House. Our urban parks see a lot of visitors, and they have a lot of incredible programs.
Our catchphrase is, 'Find your park,' and we hope everyone finds a park! It's on my to-do list to make it to Effigy Mounds here in Iowa. Find your park, get outside and enjoy this incredible system we call our National Park Service.
Hike, bike and climb through America's most pristine parks with National Parks Adventure — now playing in IMAX!