STEM in DSM: Des Moines Charity Hack pairs local nonprofits with tech professionals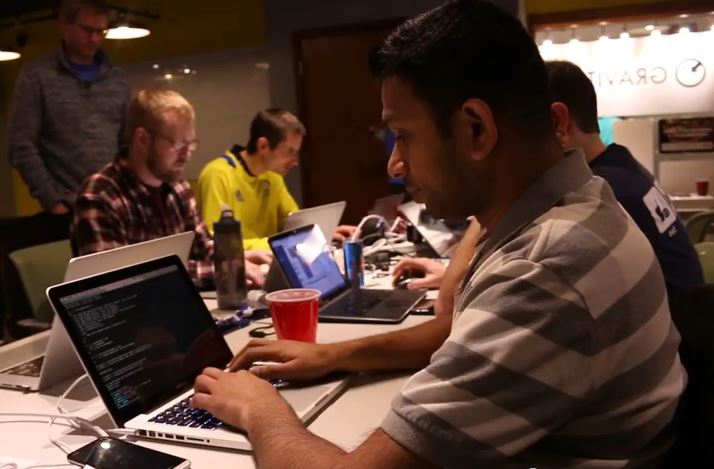 High-tech speed dating: That's how the Des Moines Charity Hack begins.
The annual Des Moines Charity Hack pairs local nonprofits with groups of six to nine tech professionals. In just three days, each team of developers, managers, designers, business analysts and quality control specialists completes a project for little to no cost to the organization.
But before developers enter a line of code, before designers sketch a single concept, the tech professionals have to select one nonprofit organization's project idea.
After briefly getting acquainted with each nonprofit organization and its proposed project, it's time to choose. "I'll take this project," each professional says until all nine nonprofits have a dynamic team with diverse skills and interests.
Nine nonprofits receive much-needed tech updates
From boosting SEO firepower to upgrading a website to a responsive design, the Des Moines Charity Hack gives each nonprofit a little technical TLC.
Children & Families of Iowa (CFI), one of the nine selected organizations, turned to its tech wish list for project inspiration. Given the wide variety of programs and services offered at CFI, the nonprofit proposed a quick, optional website questionnaire that directs users to the appropriate pages based on their responses.
CFI Communications Supervisor Kelly Amenson said the survey produced at the Charity Hack has already saved the organization time and resources.
"Visitors to our website leave engaged and informed by using the user-friendly questionnaire," Amenson said.
Animal Lifeline of Iowa (ALI), a shelter in Carlisle, was another one of the nine nonprofits selected for the event. Thanks to the Des Moines Charity Hack, the organization traded an overwhelming, outdated animal database for a new, user-friendly system.
Outreach and Event Coordinator Hannah Banes said the upgraded database has already supported ALI's mission to find safe, loving homes for animals.
"It was truly humbling that so many people came to help a few nonprofits," Banes said. "It was really nice to see all those developers come together and truly put their heart and soul into it for 48 hours. We really had a good time, and we look forward to applying for new projects in the future."
Teams complete a variety of projects catered to organization's needs
Charity Hack co-founder and co-organizer Kim Wall said the event is dedicated to supporting nonprofits' technical resources, a key element in sustaining organization growth. 
"Typically, the money that goes to nonprofits supports their core mission and values," Wall said. "Developing technology often gets pushed to the side, but it's often those limited technology resources that create a hindrance for the organization."
During this year's Charity Hack in February, nine teams completed $100,000 in tech services.
The selected organizations pay little to nothing for their projects. And in addition to technical upgrades and support, nonprofits gain lasting connections with the Des Moines tech community.
"We'd like to host more participants next year and maintain connections with nonprofit organizations throughout the year," Wall said. "Our vision is to connect local nonprofits with the Des Moines tech community all year and provide different kinds of support."