STEM in DSM: Marine biology teacher empowers students to save the nautilus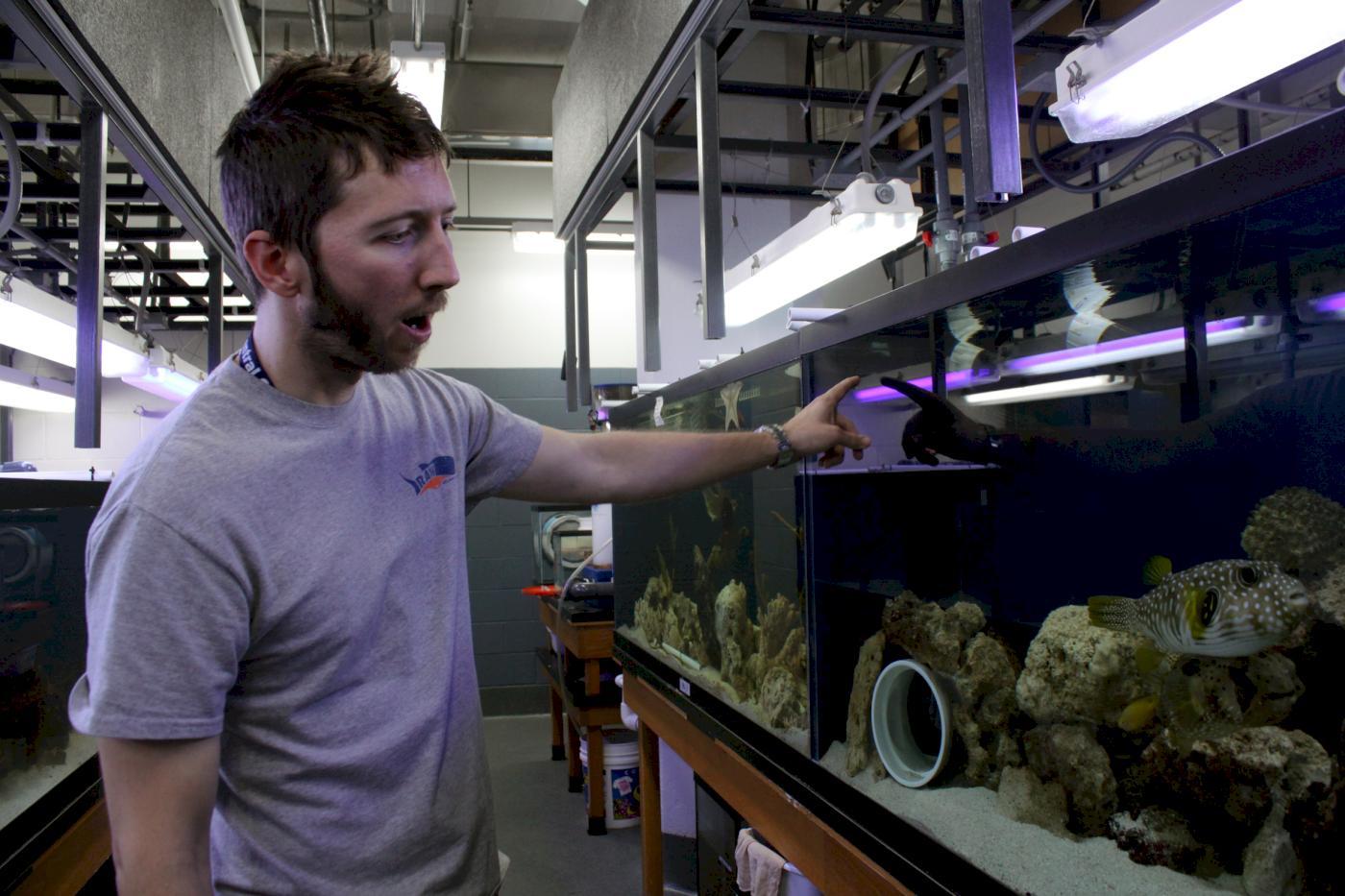 Humid, salty air whirls with the help of an industrial fan, circulating an unusual scent for Downtown Des Moines. Clownfish crowd several tanks, their bright orange color a refreshing break from barren winter scenery.
The Central Campus Aquarium boasts a welcoming atmosphere to match its welcoming classroom environment.
Around 20 percent of students enrolled in Central Campus' marine biology and aquarium science programs are interested in continuing their study after graduation. Greg Barord, the marine biology teacher, welcomes students of all interests by encouraging aquarium involvement customized to their skills.
Communications-savvy students manage the aquarium's Facebook, Twitter and Instagram accounts. Aspiring artists design the program's display cases. Future marine biologists guide maintenance and conservation efforts in the one-of-a-kind aquarium.
Aquarium offers unique interactions with rare species
Central Campus is the only high school in America that features the nautilus, a species of cephalopod.
The nautilus is especially dear to Barord, who has dedicated his doctoral research to the species and its conservation. He's in his final year of study at the City University of New York.
"It's one of the oldest animals on the planet," Barord said. "It's amazing connecting this 500-year-old animal with 15- and 16-year-old students using the nautilus as a symbol of, 'Here's what we can do. Here's where we can go. Here are the cool things we can do.'"
At Central Campus, the nautilus is more than a rare showpiece — it's a call for action.
Program mobilizes students in ocean conservation, research
Whether students pursue careers in communications, art or marine biology, Barord said he hopes the Central Campus Aquarium instills in them a lifelong appreciation for the ocean.
"The students' research is a key part of helping to save the nautilus in the wild. It's a symbol of what we want this program to continue to do," Barord said. "We're one of the few facilities in the world that has nautiluses, let alone a high school."
Students dedicate free time to aquarium care 365 days a year
Barord is quick to point out that the nautilus isn't the aquarium's only one-of-a-kind feature. Here at Central Campus, students volunteer their free time — up to four hours a day — to feed, clean and monitor every tank in the facility.
Caring for a state-of-the-art aquarium doesn't abide by the school bell, but Barord said he never has trouble scheduling student volunteers after hours.
"During summer breaks and winter breaks, they're up here volunteering. Sometimes, we have too many volunteers," Barord said. "It's not hard to find volunteers, especially over Christmas and New Year's. I think that's the cool thing about this aquarium. It is student-run."
Global partnerships and travel opportunities enrich learning experience
Students' dedication in the aquarium fuels learning experiences beyond Central Campus. Barord is leading an ocean ecology trip to California in March, where students will have the opportunity to apply their studies on Catalina Island.
Barord's research takes him to the Philippines and Australia in the summer, and everywhere he goes, he encourages student collaboration.
"I travel to the Philippines and Australia in the summer and connect my students here with those students," Barord said. "It's more than just Iowa. It's more than just Fiji. It's people everywhere working together."
Take a virtual tour of the Central Campus Aquarium.