SCI Volunteer Spotlight: Get to Know John Mclaren
Thursday November 6, 2014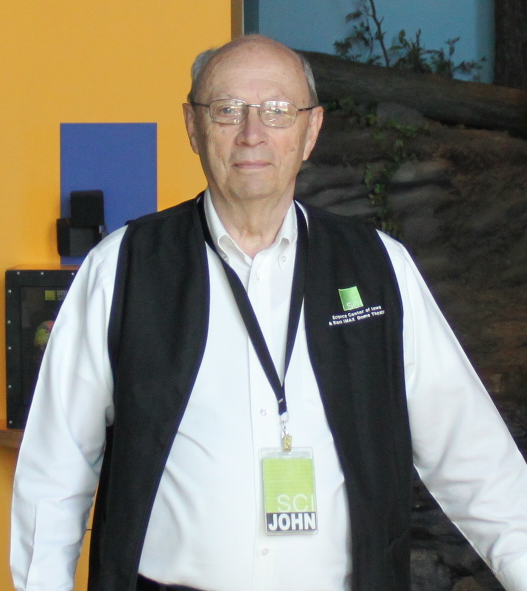 He's always ready to tell a story about the Science Center of Iowa, but one is his favorite: My favorite toy, of course, is the Cosmic Jukebox. We're the only science museum in America where a visitor can come in and take a look at the subjects in the Cosmic Jukebox and build an audiovisual program. Other science centers can go that far, but none of them can transfer that selection to a full-dome theater. When I take a group in the Star Theater, I always tell this story — it's an exclusive at the Science Center of Iowa. It's marvelous to know we have something so spectacular.
He had almost no science education, even through his college years: Everything I know about science I learned at the Science Center of Iowa.
He has one word to describe SCI's new traveling exhibition, Ultimate Dinosaurs: It's a 'wow.'
He's dedicated to recruiting SCI volunteers but focuses his attention on one metro community: I've been on a campaign for several years now to encourage more of our senior community to come down and spend time at the Science Center of Iowa. I've seen grandparents here with their grandchildren who are having even more fun than the children.
He has experimented with practically every gadget and gizmo at SCI — and even had a hand in building some of them: In those first three weeks before we opened in 2005, I got to put the toys together. I had no idea what was going to be at the Science Center of Iowa. A number of those toys are long-gone, but we have a superb facility for a city the size of Des Moines.