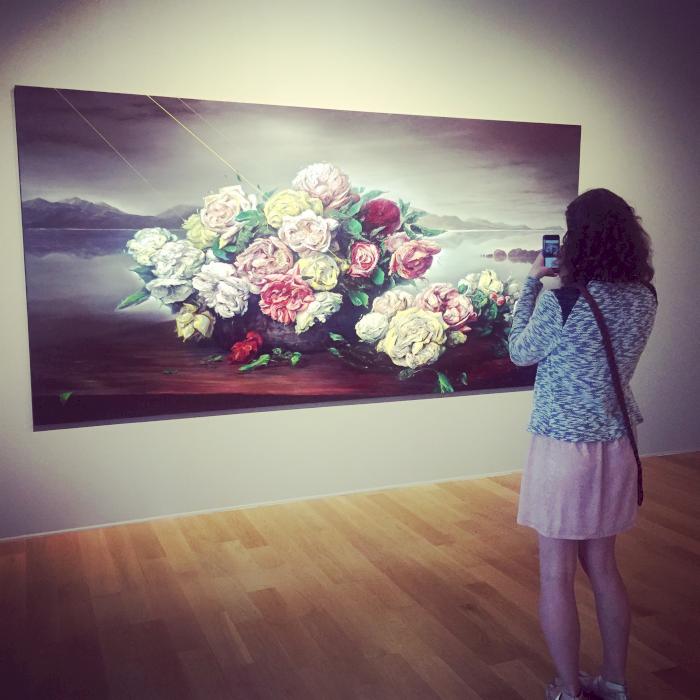 By Taylor Soule, SCI communications coordinator
Last week, we threw a party with our friends for Iowa Museum Week — on Instagram! I organized the first-ever #MuseumInstaSwapDSM, featuring six Des Moines cultural institutions "swapping" stories and photos on Instagram on Wednesday, June 8.
Where did this idea come from? As I scrolled through Twitter one evening in February, New York City's #MuseumInstaSwap caught my attention. Air and space museums, design museums, science centers, art museums, history museums and more teamed up for a special, one-day social media event.
Each museum teamed up with another institution, and the swap strived to pair up institutions with different audiences, exhibits and missions. It was inspiring to see 18 NYC institutions publicly support each other and share each one's important role in educating visitors from around the world. Naturally, I decided Des Moines needed its own #MuseumInstaSwapDSM!
Planning Des Moines' own Instagram party
Planning a day-long Instagram party is any millennial's dream, so I started emailing contacts from several institutions that participated in the NYC swap. They provided valuable insight into the process of coordinating the swap and pairing up participating institutions.
Next, I reached out to our contacts at five local institutions: the Blank Park Zoo, the Des Moines Art Center, Living History Farms, the Salisbury House and Terrace Hill. They all said yes!
All six institutions submitted a 140-character "pitch" describing why participating museums should partner with them for the swap. Then, each museum had an opportunity to rank the other partners based on which institution it would most like to work with.
I matched them up as fairly as possible, and by mid-May, we had three pairs!
Blank Park Zoo and the Salisbury House
Des Moines Art Center and the Science Center of Iowa
Living History Farms and Terrace Hill
I announced the official pairings, and finally, it was time for the best part – exploring our partner museum in pursuit of awesome Instagram photos. I visited the Des Moines Art Center and toured all three of the institution's distinct buildings and snapped photos of my favorite pieces, the museum's iconic works of art, as well as an #ArtCenterSelfie or two.
What I learned from #MuseumInstaSwapDSM
This project ingrained Instagram in my daily social media routine; I looked forward to posting every hour or so throughout the day after writing all my posts the Sunday before. I had long perceived Instagram as a tool to share what we're doing here at SCI. #MuseumInstaSwapDSM revealed Instagram's potential as a collaborative tool, enabling me to share SCI's brand and mission while advancing the important work of another Des Moines museum.
It was fun to see how participating institutions adapted their own brands for the day. I loved the Blank Park Zoo's #WildAboutHistory hashtag from their visit to the Salisbury House, for example. The Art Center incorporated its signature #entirelyunexpected hashtag in posts about SCI's Blank IMAX Dome Theater and our newCollectors' Cornermini-exhibit.
Thanks to our friends at the Blank Park Zoo, Des Moines Art Center, Living History Farms, Salisbury House and Terrace Hill for saying yes to the idea and for celebrating Iowa Museum Week with us!