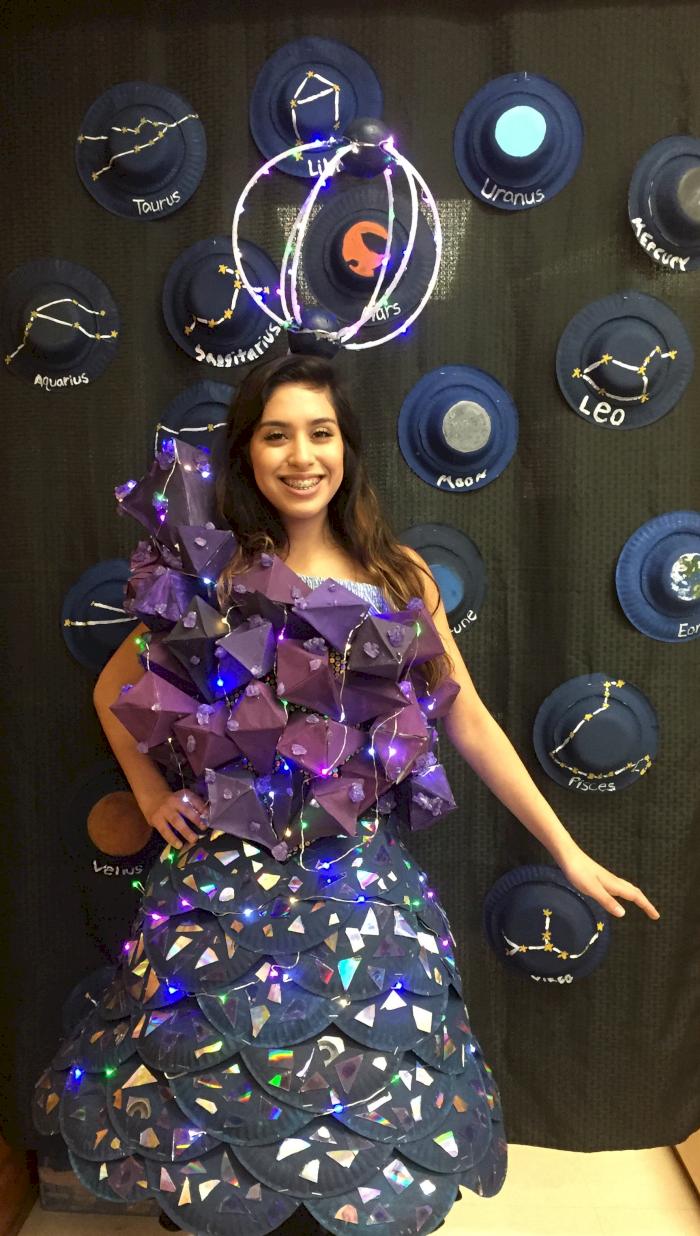 Paper plates transformed into planets. CD shards transformed into bright stars. Hanging lights transformed into glittery constellations.
For a class of juniors and seniors at Lincoln High School, unconventional thinking and unconventional materials transformed into an award-winning dress design, inspired by SCI's Why The Sky? experience platform.
"When I first heard about the project, I was excited because we got to work together and do something that we constructed in so many different ways with so many possibilities," said senior Elia Juarez, director of the Lincoln fashion show.
Tia Wilson's sewing class entered a DMACC fashion design contest this spring. The group had just one week to design and create a dress with SCI in mind. Per her students' competitive nature, Wilson suggested they visit SCI, rather than just look at pictures of exhibits.
The group gravitated to Why The Sky?, focusing on the Mars rover replica and constellations, in particular. When they got back to the classroom, each student did a sketch of the dress. Students combined their ideas into a single piece and got to work… They had just four days to sew the finished product, after all.
"We had to use recyclable materials when we were making it, so we used paper plates," said senior Allison Esle. "We didn't really know how we were going to get them to stick on, so we tried to hand sew them. The plates ripped a little. We tried to hot glue them. That was probably the hardest part."
Halfway through the week, the dress design had fallen away from its original inspiration at SCI, so Wilson helped her students refocus the piece without starting over.
Scientific discoveries, like the dress, require unconventional materials and unconventional thinking.
"I said, 'Well, we can't start from scratch, so how can we use what we already have to make it different?'"
Junior Binti Mohamed said she and her classmates weren't sure if the dress would turn out as they had planned, especially after their midweek redesign, but the final piece surprised them.
"It was really awesome," Mohamed said. "It didn't always look like it was going to turn out well, but it did."
The dress won the contest and was showcased in the DMACC Fashion Show on Friday, April 14. Juarez, the director of the fashion show, said she enjoyed seeing the dress inspire others at the event.
"I think just the most rewarding thing is being able to work with other people and see our creation out there and see other people looking at it and taking away whatever they want from it," she said.
The Science Center of Iowa's Make@SCI initiative encourages people of all ages to be makers and use familiar objects in unfamiliar ways. Making empowers children and adults alike to reimagine everyday materials and inspire the next generation of STEM professionals.