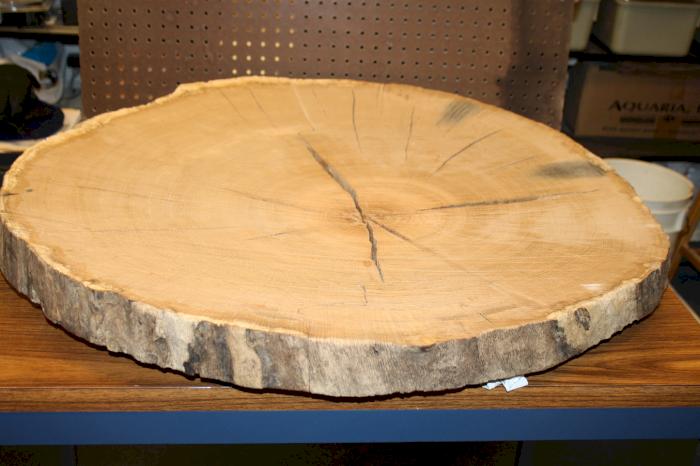 The oldest oak species in Iowa is coming to SCI in the form of a giant tree slice that took more than five years to prepare.
Animal Specialist Mark Rouw teamed up with the Iowa DNR, the Army Corps of Engineers, SCI staff and private land owners in 2012 to harvest a slice of the 442-year-old oak, which blew down in a storm near Hartford, Iowa, in 2005. Preserving the wood was the next step — one that required years of patience and, of course, science.
After a trip to the sawmill to cut the specimen straight, Rouw sanded the surface and applied a wood-stabilizing chemical to the tree slice and let it dry for more than three years.
"It's all about how slow it dries," he said. "We had some setbacks along the way but adjusted the chemicals as we went."
Three years later, the tree slice will soon move into its new, permanent home in SCI's upper level experience platform What On Earth? on February 13. First, though, it's being outfitted with a custom circle frame to hold the wood together.
After years of work, Rouw said he's excited to have a historic piece of Iowa's environment at SCI.
"I'm looking forward to seeing the finished piece," he said.
Visit SCI this spring to see the finished product in What On Earth?, and don't miss other upgrades throughout the exhibitmade possiblein partthroughsupport from the State Historical Society of Iowa, Historical Resource Development Program.