Wednesday December 30 2015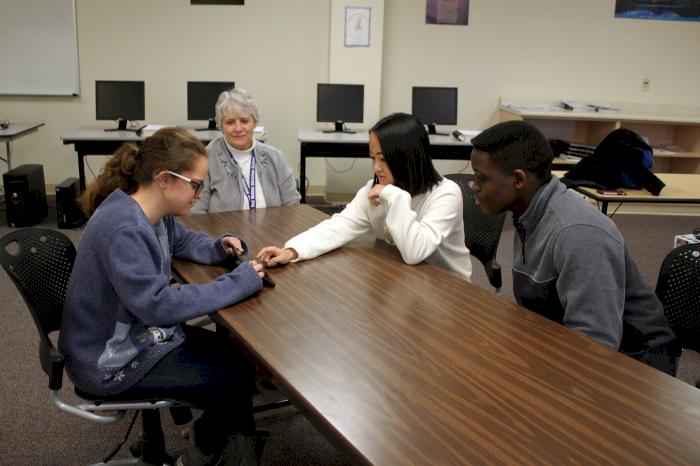 We absentmindedly tap, touch and swipe screens every day, expecting they'll perform the desired task without considering the intricate code that informs every action. Three Des Moines Christian School students rewired their relationship with mobile technology this semester, thanks to the 2015 statewide HyperStream Club challenge: a "Design Your Visit to SCI" app for Android devices.
"I learned how we communicate with our devices. If I click this button, my phone is going to do this. If I tap here, it's going to shut down an app," said senior Thierry Habinshuti, 18. "I'm actually telling my phone what to do. It's amazing. It's amazing to communicate with technology and tell it what to do."
When the Technology Association of Iowa announced this fall's statewide HyperStream challenge, Habinshuti and DMCS juniors K. Plagge and Catherine Gardino teamed up on the project.
"We've never done app development in HyperStream. I've done cyber-defense. They've done multimedia," Plagge, 17, said. "Together, we have the skills, but we knew it would be a challenge."
The team plugged into MIT's App Inventor software, which introduces users to programming and app creation through drag-and-drop building blocks. After weeks of brainstorming ideas, making lists and watching tutorials, Plagge, Gardino and Habinshuti turned to the best teacher of all — experience.
"We decided to stop watching the tutorials and go inside the project," Habinshuti said.
Each student took ownership of different tasks, trouble-shooting problems as a team along the way. Tasked with linking the app user's age, interests and duration of visit into one cohesive SCI experience, the project's complex logic proved the No. 1 obstacle.
"We spent a lot of time thinking about how everything is connected," Habinshuti said.
Despite the challenge of weaving together layers of data, the students' diverse skills and tech interests created a dynamic club environment.
"It's fun when all our minds are working together," Gardino said.
Each of those minds has big plans for the future. Gardino, 17, isn't sure what she's going to pursue after high school but enjoys expanding her tech know-how through HyperStream.
Plagge plans to go into a medical field but said the programming skills gained in the club will help her no matter her career choice.
Habinshuti is interested in engineering or architecture, and HyperStream has given him a glimpse of how everyday technology functions in extraordinary, often hidden ways.
"Everything uses technology," Habinshuti said. "Everything has a code. Even though I'm interested in doing engineering or architecture, I'm going to need coding skills to see how things work."
Students from HyperStream clubs across the state will submit their final "Design Your Visit to SCI" apps this Friday, January 1. A panel of judges will select the winning team, and the selected app will be available for Android devices on the Google Play store.
Whether or not they win the contest, Habinshuti, Plagge and Gardino have experienced the real-world side of software engineering, complete with a resume piece and the skills to communicate with a team and with technology beyond the classroom.
"It's critical to know how to communicate a coding language with objects," Habinshuti said. "I believe this will help me and my classmates in the future."