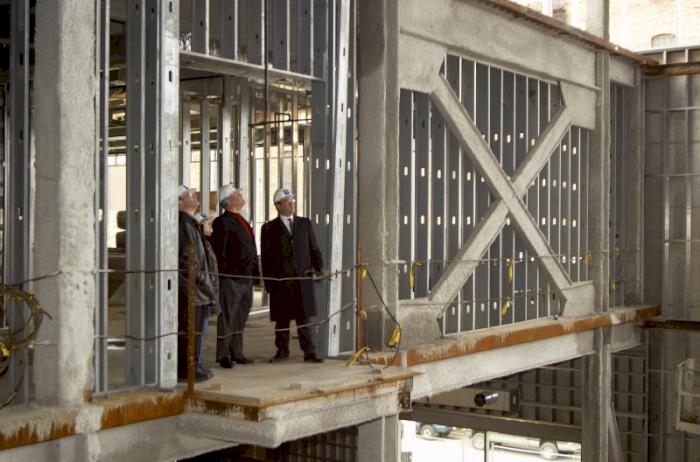 #SCI50th: As we celebrate 50 years of inspiration and impact at the Science Center of Iowa, we are sharing stories and memories of how SCI was established, grew and continues to serve the next generation. View the timeline and stories at www.sciowa.org/50th
"At every step of the way, the team was energized by the excitement of the community as we shared our vision."
In 1988, Tom Hutchins, an energy company executive, attended a utility conference in Des Moines. It was there he and his pregnant wife happened to meet the director of the preschool at the Science Center of Iowa. She warned them if they wanted to get their child into the SCI Preschool, they'd have to register the baby soon.  
Hutchins and his wife did a little investigation and found the preschool highly regarded -- and with a long waiting list. The two signed up as quickly as they could, and four years later, their son had a spot in the program. 
Four years after that, the Hutchins enrolled their second child. 
Through that experience, Hutchins became familiar with the work being done at the science center, and he was impressed enough that he made a call and offered to help out in any way he could. 
As a result of his volunteer work, Hutchins was eventually invited to join the SCI Board of Directors, where he served for nearly 20 years. He oversaw years of change at the science center, and even served as chairman of the board when SCI made its big move downtown in 2005. A major part of his job during that time was to act as the voice of SCI in order to share the vision and plans for the new center with the community. 
While the process of moving from the old science center to the new took years and a lot of hard work, Hutchins said there were highlights along the way. 
"Building the new science center was hard work for all involved," he said. "However, at every step of the way, the team was energized by the excitement of the community as we shared our vision." 
Now, his favorite spot in SCI's downtown building is in the administrative offices. If you look up and to the right when you walk in the science center, there's a window that Hutchins likes to look out. 
"The view from the administrative area window overlooks where new visitors enter and begin their SCI experience," Hutchins said. "The energy and excitement of families as they arrive provides a visual reminder of SCI's ability to engage and inspire families to explore opportunities in science."