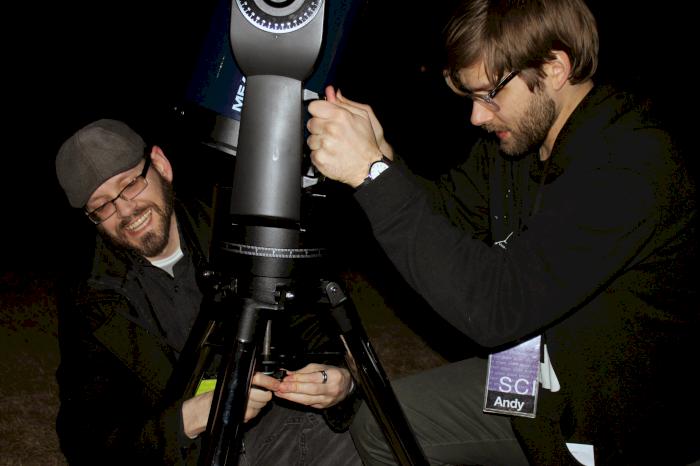 For SCI volunteer K.O. Myers, the telescope isn't solely a gateway to the galaxies… It's a gateway to wonder and scientific literacy right here on Earth.
Though he enjoys exploring the Moon, Venus and Mars, Myers is more captivated by the "a-ha!" moments that define SCI's Star Party experience.
"I really find it rewarding when people see something for the first time and it captures their imagination," Myers said. "We talk about the 'a-ha!' moment. For those of us on the Star Party crew, we really get the joy of helping people have that experience."
Those little moments of wonder ignite interest in science and motivate Myers to continue volunteering at Star Parties. He joined SCI's volunteer team in 2012 and has honed his own astronomy skills along the way.
Myers' Star Party specialty is the history and structure of the Moon. While he enjoys pointing out specific craters, planets and constellations, Myers' top priority is creating a space for scientific discovery.
"Children are naturally inquisitive, and I think it's even less about encouraging them to be interested in science but just not discouraging them. They start from a place of curiosity and wonder and interest," Myers said. "Any opportunity we have to reinforce, encourage and nurture that is great."
Myers said Star Parties provide the ideal opportunity for outreach, thanks to their location outside and in the community. SCI hosts Star Parties at Ewing Park in partnership with the Des Moines Astronomical Society.
Veteran astronomers and first-time star-gazers alike develop their telescope skills in the welcoming environment.
"I like the camaraderie of the small group," Myers said. "There's a core group of us that are really excited about the sky."
Myers said he hopes to invite more SCI volunteers into that core group.
"If you're looking for an experience where you'll get to meet people who are engaged and interested and passionate about science, there's no better way to do that than volunteer at SCI," Myers said.