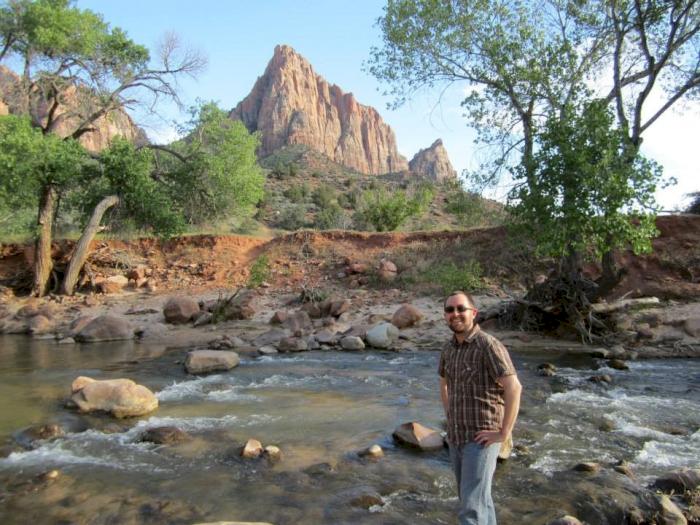 A-ha moments happen in unlikely, even faraway places — 1.2 billion kilometers away on Saturn, to be exact. As a Star Party volunteer, Dan Chibnall brings the solar system into focus for SCI participants, inviting them to experience our solar system in awe-inspiring clarity.
We sat down with Dan to discuss how he got started at SCI Star Parties, his early interest in astronomy and the search for alien life.
SCI: How long have you been volunteering at SCI?
DC: It will be four years this fall. My friend and fellow Star Partier K.O. Myers got me started. He encouraged me to come out and try a Star Party in 2012, and I fell in love right away.
SCI: What was it about Star Parties, specifically, that caught your attention?
DC: It was a combination of things. First, it's an amazing learning opportunity for kids, teenagers and adults. There's no specific audience we're gearing it toward. We want everyone to come out and learn something. Second, Star Parties remind us that you can feel joy and wonder at your natural surroundings, especially when you look up at the night sky. All good science teaching must have a dose of wonder mixed in. It brought me joy because I get to hear all the fun questions from kids and try to answer them the best I can. Plus, I get to use a pretty neat telescope to look at our solar system.
SCI: When did you first become interested in astronomy, and what piqued your interest?
DC: When I was 8, my parents gave me a book on ancient Greek myths and later that year, they gave me a small book on the planets of our solar system. I was fascinated by both and loved that astronomers had named all the planets after characters and gods from ancient myths. That was when I really started to get interested in how the planets differed from one another. Plus, the Voyager probes were still sending pictures back from the outer planets and that was exciting, too, although that was pre-internet so you had to hope you might see something on TV or in a newspaper or magazine. 
SCI: How did your educational and professional background influence your interest in astronomy?
DC: I'm a science librarian and have been collaborating with science departments for many years. So, even though I work with students and faculty in biology, chemistry and physics, I get to work astronomy and astrophysics into my conversations and lessons from time to time. The scientific method works across every one of the many fields of science, so there's always a way to use an example from astronomy to make a point or illuminate a teachable moment.
SCI: Can you describe a moment you saw a Star Party participant have an a-ha moment or make a discovery?
DC: Oh, many times! The one thing that gets people every single time is seeing the rings of Saturn through our largest telescope. Most people gasp, some laugh, some just exclaim, "Oh my goodness!" They just can't believe they're seeing something that is 1.2 billion kilometers away, and it's right there in front of their eyes. Now kids, they like the Moon quite a bit. It's bright, big and they always ask about the craters and whether there are aliens there. I tell them no, but then wink and say, "Well, we haven't found any... yet!"
SCI: Why should other astronomy enthusiasts volunteer at SCI Star Parties?
DC: There are many reasons to volunteer at Star Parties! You get to teach the public about the vast wonders of the solar system. You get to see kids and teenagers excited about seeing something they've literally never seen before. You get to work with an amazing team, full of new facts and discoveries at every party. Finally, you get to remind people that there's more to the universe than just what's happening here on Earth. It's a learning experience for everyone involved.
From common astronomical occurrences to rare cosmic phenomena, join us at Star Parties to learn about our solar system and beyond. Join SCI staff and members of the Des Moines Astronomical Society (DMAS) to take a look through high-powered telescopes and get a quick lesson on the basics of telescope operation. Guests will have the opportunity to observe celestial objects, colorful double stars and star clusters, meteor showers and more.
Star Parties are free and open to the public.
For more information on Star Parties and to view the 2016 schedule, visit www.sciowa.org/astronomy.