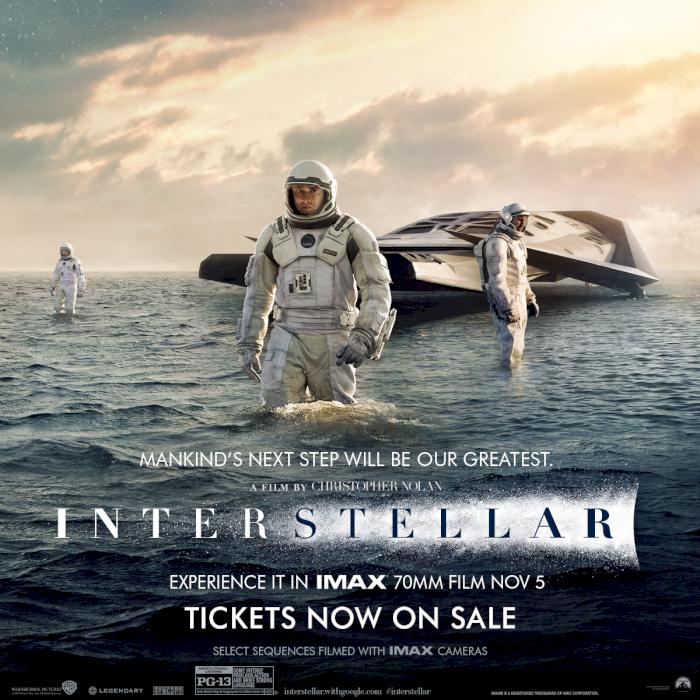 By: Timothy Alguire, IMAX Projectionist
"If there's any film that's ever really, really demanded a must-see trip to the theater in IMAX, it's Interstellar." - Matthew McConaughey
Christopher Nolan is a fan of IMAX and of film in general. So much, in fact, that he prefers film over digital when filming his movies!
He doesn't do it out of nostalgia but because film still provides the best quality image. When asked about the IMAX format he says, "The sharpness and the depth of the image, projected onto those enormous screens, is simply the best quality image that has ever been invented."
With IMAX film having a resolution that is almost 10 times greater than any other format, 70mm IMAX film is best way to see the Interstellar as the director intended. For comparison's sake, a traditional theater's digital projection system is a 2K or 4K system – that's 2 to 4 times the clarity of most HD TVs. IMAX film has a resolution of up to 18K.
Interstellar features more than an hour of footage filmed in the native 15perf/70mm IMAX film format, which means that, during these scenes, the image clarity is unmatched by any other format. These select scenes during key dramatic moments will fill the entire IMAX screen... further enveloping the audience. 
The image produced by IMAX film, which offers up to 40% more picture than other formats, fills the screen from top to bottom with unmatched brightness and clarity. The IMAX sound system utilizes low-end frequencies, allowing viewers to feel the film as well as hear it. SCI is the only location in Iowa that will be presenting Interstellar in true IMAX fashion; on 15/70mm IMAX film!
If you've been to SCI's Blank IMAX Dome Theater recently, you know our screen in big. So big in fact that SCI's Blank IMAX Dome Theater's screen is the LARGEST SCREEN in the state of Iowa! This enormous screen along with the theater's laser-aligned digital sound system creates the world's most immersive experience for Interstellar that can only be experienced in IMAX at SCI.
If you want to see Interstellar the way Christopher Nolan wants you to see it, do yourself a favor and experience it in 70mm IMAX film at SCI's Blank IMAX Dome Theater!
Interstellar: The IMAX Experience in 70mm Film opens at SCI on November 5. Tickets and showtimes at www.sciowa.org/imaxshowtimes